MEGABIKE IS COMING TO TOWN! TAKE YOUR TEAM ON A BIKE RIDE AROUND TOWN THEY'LL NEVER FORGET! #PEDALFORPOTENTIAL
Get ready for an unforgettable experience! MEGABike is coming to Woodstock- don't miss your opportunity on the legendary 30-person BIG Bike with your co-workers, clients and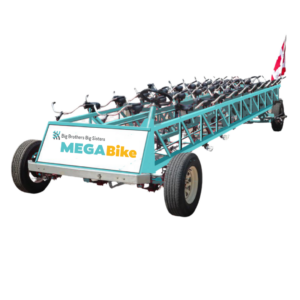 friends and enjoy a ridiculously fun team-building event all while pedaling for the potential of young people right here in our community.
Why Participate?
At BBBS, we believe that every connection counts and we see in our community and with youth in our programs that connection matters now more than ever before. MEGABIKE is more than just a fun day out. Connection with your team increases morale, employee retention and opportunities for in-office mentorship.
Event Details
We'll be pedaling Monday, June 12th. Participation starting at $100/per seat. Limited rides available! Sign your team up today to secure your spot! .
Proceeds from the Mega Bike Rides will ignite the potential of young people through the power of mentoring. Funds raised will ensure that Big Brothers Big Sisters of Carleton-York is able to continue serving children and youth each year by providing them with another caring and trusting adult in their lives.
Never before has there been a more critical need for mentoring.
Families are relying on our support, and we are relying on events like these to ensure we don't let them down.
All proceeds will go directly towards our Mentoring Programs, ensuring that all young people realize their full potential, because we are #biggertogether
Please contact Brittney Toner with any questions: brittney.toner@bigbrothersbigsisters.ca